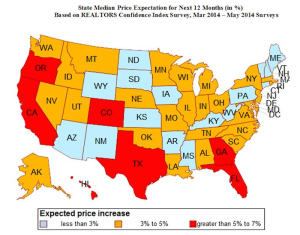 The nation scene for 2014 and 2015 real estate market has slowed in recent months and the general consensus is that home price appreciation is slowing but still moving up. A survey of members of the National Association of Realtors shows they generally expect home prices to increase in all states and the District of Columbia over the next 12 months. "That's the consensus from the May 2014 Realtors Confidence Index. The median expected price increase is 4%."
"Expected price movements depend on local conditions relating to housing demand and supply, demographics, and job growth," the survey says.
Charleston SC Real Estate – We Know your Local Market
Charleston market is a perfect example with varied pockets of trends. Boeing coming into the market helped dry up the glut of inventory, Foreclosures and REO properties are down in most areas. Investors are leaving many markets and inventory has become low in many markets.  Yet the overall inventory of homes on the market has started to increased.  Supply and demand are key to price increase.  Big builders in some markets risk inflated inventories and new home prices remain competitive, holding price increases for resale homes in check.
If you are looking for homes for sale in Charleston SC you need an agent that is aware of the local market conditions. Understanding the very fragmented markets in the low country is vital to knowing when, where and what (is a good price to pay).
While the national pattern of moderating values for home prices may be ascribed to things like: difficulty in acquiring mortgage financing and uncertain expectations about overall economic and job prospects, the Charleston real estate for sale prices must factor in additional things such as: drive times to work centers, general subdivision popularity, proximity to shopping and attractions of interest. Many shoppers especially internet users that are from other areas, can get caught up on the individual property information unaware of the important factors that can become big time wasters when looking for homes for sale in the charleston area or worse; land them a home that doesn't meet long term expectations in lifestyle enjoyment or as an good long term investment. I recently heard one of our agents on the phone with an out of town shopper warning them of drive times to her husbands new employment and other "local factors" of the Charleston home market that saved them from spending time focused on the lovely photos only to discover that homes being sold in that Charleston community would never meet their needs.
Some local markets have lagged behind the local trends and expectations for 2014-2015 could see home price increases as much as 15%.  Yet, builders with low cost land have kept price increases flat in many pockets.  Local knowledge with a Premier One agent can help you protect your equity in what may be your largest lifetime investment by assisting you with their knowledge about local market conditions.
Over all the national and Charleston Real Estate markets remain relatively strong.
"Home prices are continuing to climb across most of the country which has both positive and negative implications for the housing market. While the rapid rise in prices over the past two years has lifted many homeowners out of negative equity, it has also become a negative factor in buying decisions for prospective purchasers weighing affordability concerns. As we move ahead, a moderation in home price increases over the next twelve months should help cool things down a bit and keep the housing recovery going," said Anand Nallathambi, president and CEO of CoreLogic. http://realtormag.realtor.org/daily-news/2014/07/01/10-states-reach-new-home-price-highs
Real Estate Predictions for 2015:

Interested in more about the national trends visit:  http://www.huduser.org/portal/ushmc/home.html
Save